It's no secret that online marketing relies heavily on Google. The tech giant's search engine receives nearly 90 billion visits monthly—a fascinating number, considering there are about 5.2 billion internet users in the world.
With such statistics, there's plenty of potential for effective advertising, and Google Search Ads represent one of the best venues to unlock that potential. Let's take a close examination into the matter and see how you can use Google Search Ads to your ultimate benefit.
What Are Google Search Ads?
Google Search Ads are the first search results you see when looking for a product or service on Google. The search engine lists the paid ads before organic results, i.e., pages that rank highly due to their content.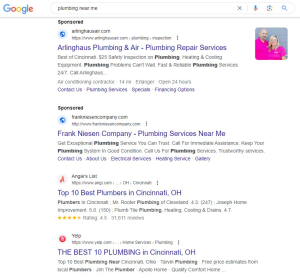 Example of Google Search Ad results vs. organic Search results
Advertising through this pay-per-click (PPC) platform means businesses pay to have their ads displayed in search results. Since the search engine provides unparalleled exposure, this platform provides considerable advantages to any marketing campaign.
Google Search Ads vs. Other Google Ads
Search ads aren't the only type of paid advertisement in Google's repertoire. The company offers other ads through channels like display, shopping, and YouTube.
Display Ads
Let's start with display ads. This advertising type is done through the Google Display Network, a massive web of apps and websites numbering about 35 million digital locations. While this number sounds impressive, Google Search Ads can potentially reach billions.
Example of a Google Display Ad
Shopping Ads
Shopping ads appear in search results and the Shopping tab on Google. In this case, the ads aren't displayed according to keywords but rather by specific search categories. Google Search Ads can have an advantage here due to more precise targeting via search terms (i.e., keywords).
YouTube Ads
Finally, YouTube ads are rolls that play at specific points during a YouTube video, usually before the video starts. The massive video platform provides ample advertising opportunities, although it has a particular issue that doesn't affect most other ad types. Namely, modern browsers have extensions that allow users to block YouTube ads, bringing the efficiency of this method in question.
To summarize, Google Search Ads provide better reach than display ads, superior targeting compared to shopping ads, and are more reliable than YouTube ads. While the other platforms may excel in one specific aspect, none have the versatility and overall effectiveness of Google Search Ads.
How Do Google Search Ads Work?
Google Search Ads function on a bidding system. Essentially, you determine the keywords that you want to appear for and bid on how much you'll pay per ad. Through this process, you're entering a competition with anyone interested in the same keywords.
The winners of the bidding contest get their ads displayed. You can compete for Google Search Ads across three categories: per click, per mille, and per engagement.
Cost per click: You pay every time someone clicks on the ad.

Cost per mile: You pay whenever your ad is displayed a thousand times.

Cost per engagement: You pay when audience members engage through specific actions.
Most interestingly, Google doesn't charge a flat rate for search ads. Instead, the search engine will award you a Quality Score based on the relevancy of your content. The higher the score, the less you'll need to pay for search ads.
What Are the Benefits of Google Search Ads?
Google Search Ads can provide massive advantages to your campaign, especially when compared to other PPC channels. Here's what you can expect from Google Search Ads marketing:
Reach the right audience through relevant keywords.

Maximize the number of people seeing your ads.

Control what you pay for.

Set campaign limits for optimal ROI.
Essentially, Google Search Ads allow you to tailor your market approach and boost your campaign reach. As a result, your advertising efforts can result in a significant boost in conversions and sales, which is the ultimate point of all marketing.
How Can You Get the Most Out of Your Google Search Advertising Campaign?
Setting up a successful Google Search Ads campaign isn't as straightforward as it seems. The basics are relatively simple: You pay for your ads to be displayed on Google's search engine results page (aka SERP). However, there are many moving parts to consider in this process.
First, you'll need to determine the best keywords to bid for against others. Next, your content will have to be optimized to give you the greatest advantage. Finally, the success of your strategy will depend on getting the largest ROI possible, which will include determining the optimal price you want to pay for ads.
Once you get into the calculations and analysis, the entire ordeal can become quite daunting. But that's precisely why professional marketing services exist.
Discover How Walter814 Can Help You & Your Business Thrive Online
To really get the most out of your Google Search advertising campaign, it's usually best to rely on a professional. If you want your campaign to generate leads and really turn a profit for your business, you need someone who's expertly framing your product or service, constantly evaluating competitor campaigns, and staying up-to-date on changes with Google. No one does that for you like Walter814.
We take a comprehensive approach to your Google Search Ads campaign through several proven techniques. Our experts create a foolproof strategy based on your business goals and then move on to designing the optimal campaign to reach those goals. Plus, we do all that while keeping you constantly in the loop. Through regular consultations, Walter814 ensures your marketing efforts stay on track.
If you want to learn more about our Google Search Ad services and start growing your business, feel free to get in touch with us today for an initial consultation or a free campaign estimate.
Frequently Asked Questions (FAQs)
What Are Google Search Ads Good For?
Google Search Ads are an effective—and relatively affordable—method to reach potential customers right where they are searching for your product or service. As a result, you can get more qualified leads and grow your business.
How Much Are Google Ads Per Month?
Possibly the best feature of Google Ads is determining how much you want to spend per month. You can start with a daily budget of as little as $10 and set a cap for what your monthly budget is. Once you reach the spend limit, your ads stop and reset next month; it's as simple as that!
What Kind of Businesses Use Google Ads?
Because Google is so prevalent in our lives, basically every business uses Google Ads. What better way is there to target an audience that's actively looking for the service or product you offer? From wealth management firms near you advertising their expertise or e-commerce stores offering "buy one, get one free" deals, any company can stand to benefit from running Google Ads.
Is It Worth Doing Google Ads?
Instead of billboards or TV commercials passively reaching an uninterested audience, Google Ads put you right in front of your ideal user. With a professional marketing team, you can reach the right audience through relevant keywords, maximize the number of people seeing your advertisements, control how much you pay, and set campaign limits to optimize your return on investment. Needless to say, Google Ads are very worth it.